FFFTP
---
Development of the FFFTP is terminated.
This FFFTP is Oct 24,2010 version.
The update will not be done in the future.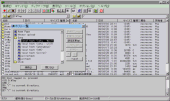 FFFTP
Version 1.97b [Oct 24,2010]

All programs are used at the user's own risk, and no gaurantee is made of their operation nor reparation shall be made for any adverse results.

All programs have been checked by
ESET Smart Security V9.0
and
Kaspersky Security 2017.
---